QUALITY CUSTOMER SERVICE AND VALUE WITHOUT THE DRIVE
Our shop and studio is conveniently located in Strasburg, Virginia near the intersection of Rt 55 and Rt 11. We are dedicated to providing superior customer service and we specialize in a variety of photographic and print related services.
.
---
Printing Services

At the ready, is our array of professional printing and copy equipment to accommodate your projects, whether they are small and simple or of large volume. Whatever your needs, we have the experience and equipment to work on a variety of projects, including, flyers, handouts, posters, business cards, ID Cards, documents, banners, signs, envelopes, mailers, brochures and various forms of advertising media for your home or business. We also create and print custom decals for window graphics & vehicles.
.
---
TEE SHIRTS, GARMENTS & HATS

Tee Shirts, Sweatshirts, Hoodies, Tank tops, Hats and more.
Express yourself, your team, company or organization with custom apparel.
We offer you the ability to have a "one of a kind" or as many as you need. One of our specialties is full color photographic images with almost unlimited colors and gradients.
We utilize the latest technologies, equipment and materials and offer our products with premium heat transfer products and traditional screen printing.
---
GRAPHIC DESIGN

With many years of experience in the digital arts, we are specialists in various forms of graphic design including, corporate branding, logos, official document creation, and the design and implementation of multiple forms of advertising media in both digital printing and web based outputs. Our design services work hand in hand with our many available print solutions.
---
FAX & COPY SERVICE

We offer walk-in fax service for our customers. Copies in black and white or full color can be completed quickly. Scan your document for printing or from a digital copy on a thumb drive. You can even email it to us so it will be ready for pick up when you arrive.
---
Photographic Services

We are experts in photo processing, printing, and related functions, including the advanced services of editing, enhancing, and enlargements. We also offer large and wide format printing. We use professional photographic papers in a variety of styles and finishes. Additionally, we provide scanning and photo restoration services.
---
Other Additional Services

We offer a wide variety of services based on photo, printing and graphic platforms. We would love to discuss your project with you and see if we can assist you. In addition to our traditional photography studio, we also offer many professional photographic services, including product photography, live event, mechanical, architectural, and real estate. We also offer flat surface laser cutting and engraving.
---
Fine Art Prints

Our company offers a large selection of fine art images from the collection of professional photographer, Joey Ricard. These fine art images make a nice addition to your home or office. This collection is nature and landscape based, featuring many scenes of the beautiful Appalachian region of the United States. Prints are offered in a variety of sizes to choose from. All prints in this series are printed on professional satin photographic papers.
---
ONE STOP STUDIO SHOP - OUR DESIGN GALLERY

This gallery provides a wide variety of examples and only a fraction of some of the many creations that we have provided for our customers. Your imagination is the only limit to what we can come up with together for your business, organization or personal use.
.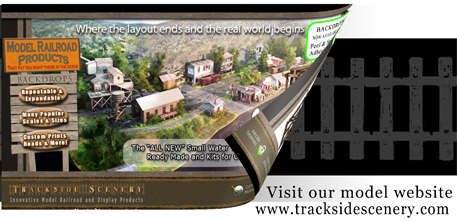 VISIT OUR MODEL RAILROAD PRODUCTS COMPANY